PGR-led Seminar Series: Decolonising Forced Migration (Seminar 3)
03mar(mar 3)3:00 pm09(mar 9)4:30 pmPGR-led Seminar Series: Decolonising Forced Migration (Seminar 3)This seminar challenges narratives of forced migration as a 'threat' and forced migrants as 'objects' of elimination and containment.3:00 pm - 4:30 pm (9) OrganiserUNESCO Chair in Refugee Integration through Languages and the Arts (RILA), University of GlasgowEvent TypeWebinar & Talks
Event Details

Register here.

PGR-led Seminar Series: Decolonising Forced Migration: Political (Un)-Intelligibility, Reflexivity, & 'Epistemological Agency'
About this Event
Seminar 3 – 9 March 2021, 3pm
In this third seminar we are delighted to host two distinguished speakers:
Culture and humanity
Speaker: Nah Dove
Assistant Professor, Department of Africology, Temple University.
Abstract: As an Afrocentric theorist, Dr Nah Dove's intention is to focus on the significance of culture to life and human "development". Using Dr Diop's theoretical perspective, Dr Nah Dove will elaborate on how cultural differences create distinctions among humanity.
The Afrocentric Paradigm as a New Episteme
Speaker: Molefi Kete Asante
Professor and Chair, Department of Africology at Temple University, Philadelphia.
Abstract: Professor Asante seeks to assert the significance of African people in our own historical experiences. Africans are neither peripheral to human history, nor simply on the margins of European ideas, but are central to an understanding of humanity and civilization.
Speaker Bios:
Nah Dove is Assistant Professor in the Department of Africology at Temple University. She is a transatlantic womanist and Afrocentric theorist of Ghanaian and English heritage who has lived in Ghana, Nigeria, Canada, the UK, and the US. Nah Dove has written articles, book chapters, encyclopaedic entries and is the author of African Mothers; Bearers of Culture, Makers of Social Change (1998). Her recent book Afrocentric Blueprint provides a foundation for the development of Afrocentric schools and curriculum. She is a proud mother and grandmother.
Molefi Kete Asante is Professor and Chair, Department of Africology at Temple University in Philadelphia. He is the co-founder of Afrocentricity International and is President of the Molefi Kete Asante Institute for Afrocentric Studies. Asante was a Guest Professor, Zhejiang University, Hangzhou, China, and is Professor Extraordinarius at the University of South Africa. He is the Founding and Current Editor, Journal of Black Studies. Asante, often called the most prolific African American scholar, has published 92 books, among the most recent are Radical Insurgencies, The History of Africa, 3rd Edition; The African American People: A Global History; Erasing Racism: The Survival of the American Nation; Revolutionary Pedagogy; African American History: A Journey of Liberation; African Pyramids of Knowledge; Facing South to Africa, and, the memoir, As I Run Toward Africa. Asante has published more than 500 articles and is considered one of the most quoted living African authors as well as one of the most distinguished thinkers in the African world. He has been recognized as one of the 10 most widely cited African scholars. Asante has been recognized as one of the most influential leaders in education. He has been named a HistoryMaker with an interview in the Library of Congress. In 2019 the National Communication Association named him an NCA Distinguished Scholar, its highest honor, saying that his writings were "spectacular and profound". He received his Ph.D. from the University of California, Los Angeles, at the age of 26, and was appointed a full professor at the age of 30 at the State University of New York at Buffalo. At Temple University he created the first Ph.D. Program in African American Studies in 1988. He has directed more than 135 Ph.D. dissertations making him the top producer of doctorates among African American scholars. He is the founder of the theory of Afrocentricity.
PGR-led Seminar Series: Decolonising Forced Migration: Political (Un)-Intelligibility, Reflexivity, & 'Epistemological Agency'
About the series:
This free online seminar series aims to promote critical thinking and creative ways of unpacking the political and epistemological questions in the production and circulation of knowledge on forced migration (i.e. often dominated by researchers in the Global North) and, at the same time, highlight the often muted voices of the people with lived experience.
The series is organised by PhD researchers from the Universities of Leeds and Glasgow.
The series will conclude with an open discussion with scholars of migration, academics, practitioners, and people with lived experience.
Context for the Series:
In a 2019 report, the UN Refugee Agency (UNHCR) indicates that, of the 79.5 million forcibly displaced people in the world, 85 percent remain in the developing countries. Furthermore, a report by the Mo Ibrahim Foundation (2019) indicated that more than 70% of Sub-Saharan African migrants move within the continent. Many, who live in refugee camps, face the prospect of protracted encampment with no hope in sight while those in urban areas live in desolate squalors in the periphery of society. And condemned to life without livelihoods in the 'modern camp', which has become the 'political and juridical hinterland' (Stonebridge, 2018), they embark on perilous journeys in search of safety and better life opportunities.
With the increase in number, in recent years of Europe bound migration, a great deal of scholarship, policy research and intellectual resource has been invested in understanding and containing the migration movements from the Global South. However, the plethora of existing scholarship, policy debates and knowledge production and circulation on migration studies remain to be largely drawn to and centred in the Global North. In other words, migrants in the Global South continue to be used as 'materials of knowledge' for policy response rather than active owners of their lived-experience and their destinies. Likewise, the sending states are devoid of their 'epistemological agency', which according to Mamdani (2013), is 'the key to unlocking the secret of native history' with scientific research being that which gives access to one's own history.
This quest for "knowledge" has led to differentiated hierarchies of 'imaginative geographies' (Andrucki, 2013) of the "Global North" and "Global South" whereby the former is represented, both in 'modernity' and civilizational terms, as the 'suitable destination' and a place of 'ontological security' (Giddens, 1991) whereas the latter is imagined in the colonial lens of Conrad's 'Heart of Darkness'. This stark contrast between the 'cartographies of migration' and the production and circulation of knowledge about the phenomenon of forced migration raises fundamental questions of political intelligibility, 'epistemological agency' and 'ontological security' of the migrant population in question.
Is there a scope for political intelligibility of the increasingly nascent category of involuntarily displaced migrants?
How are the precarious states of 'being' of the involuntarily displaced migrants represented in political life?
How is the phenomenon of 'forced migration' constructed and represented in the Global North?
How are migrants' stories, capabilities and resilience as well as vulnerabilities, precarities and carceralities represented in the existing (often Euro-centric) scholarship?
Is there a scope for other ways of knowing and imagining the incarcerated, illegalised, exceptionalised and muted figure of the forced migrant?
Engaging with academics, practitioners, policy makers and migrants with 'embodied knowledge' and 'insider status' in the sociology of migration, this public seminar series aims to 'interrogate' the persistency of socio-political, epistemic, and representational inequalities (and fallacies) inherent in the narratives and constructions of forced migration as a 'threat' and forced migrants as 'objects' of elimination and containment. Moreover, the series aims not only to shed light on the vagaries of the precarious life and 'biopolitical filtering' (Salter, 2004, 2008) that forced migrants are subjected to but also their stories, histories, cultures, ways of knowing and unknowing as well as their struggles. In doing so, the seminar series will focus on the following suggested themes:
Negotiating integration through the arts and language
Beyond volitional(ity) and forcibl(ity): tracking migrants' agentive roles in negotiating (im)-mobilities
'Mobile homes': 'travelling cultures', rituals, 'artefacts' and filial piety
Modes (strategies) of survival in carceral cartographies
(De)-silencing and (de)-effacing the refugee: Thinking with migrants, listening to migrant perspectives
The 'villain' as a 'hero': 'Good smugglers' as enablers and the state as immobiliser
Where to integrate to?: 'Integration' as a colonial continuity thesis
On 'decolonisation' of education: Indigenous methodologies and epistemologies
What gets published and who gets published in field of migration?
About the Series Organisers:
Tesfalem Yemane: Tesfalem is a PhD researcher at the University of Leeds, School of Sociology and Social Policy. Building on Joseph Nye's concept of 'soft power', he examines the destination preferences of Eritrean refugees and asylum seekers who arrive in the UK and their post-arrival experiences. In addition, Tesfalem works as an Employment and Education Advisor for RETAS Leeds. He also worked as the Operations Director of Growing Points, a charity that works with migrants across England and Wales. His co-authored book chapter, 'Steps to Settlement for Refugees: A Case Study' (2019) traces the refugee journey towards citizenship in the UK. For more information on Tesfalem's research interests, please visit his university profile.
Kheira Arrouche: Kheira is currently a PhD candidate at the University of Leeds, School of Sociology and Social Policy. Her research explores the mobility pathways sub-Saharan migrants undertake and interplaying forces that shape their (im)mobility experiences. Through her ethnographic research, Kheira aims to contribute to the critical debates about transit migration and im-mobility studies as well as examining the intricate ways the migrants exercise their agency to overcome such experiences. For more details about Kheira's research interests, please visit her university profile.
Souad Boumechaal: Souad is a PhD researcher at the University of Leeds, School of Languages, Cultures and Societies. Souad's research examines the ideological discourses around the English language within Algerian higher education with a particularly focus on how global forces such as internationalisation of higher education are shaping the status of language education in postcolonial Algeria. Through the theoretical lens of linguistic imperialism, her research explores how the promotion of the English language at the expense of local languages could be a 'threat' to the multilingual nature of Algeria, preventing both teachers and students from taking ownership of their education.
Hyab Yohannes: Hyab is currently a PhD researcher and graduate teaching assistant at the University of Glasgow and holder of the UNESCO RILA PhD Scholarship. He worked formerly for local charities and international organisations in Egypt, including UNHCR, IOM, Africa and Middle East Refugee Assistance (AMERA) and Saint Andrew's Refugee Services (StARS). Hyab is involved in academic and non-academic professional roles in the UK. More details about Hyab's research interests and professional experience can be found on his student profile and personal website.
Contact:
For further information or inquiries about the Seminar Series, please contact Kheira Arrouche at [email protected]
Top Image: Artwork by Zineddine Bessaï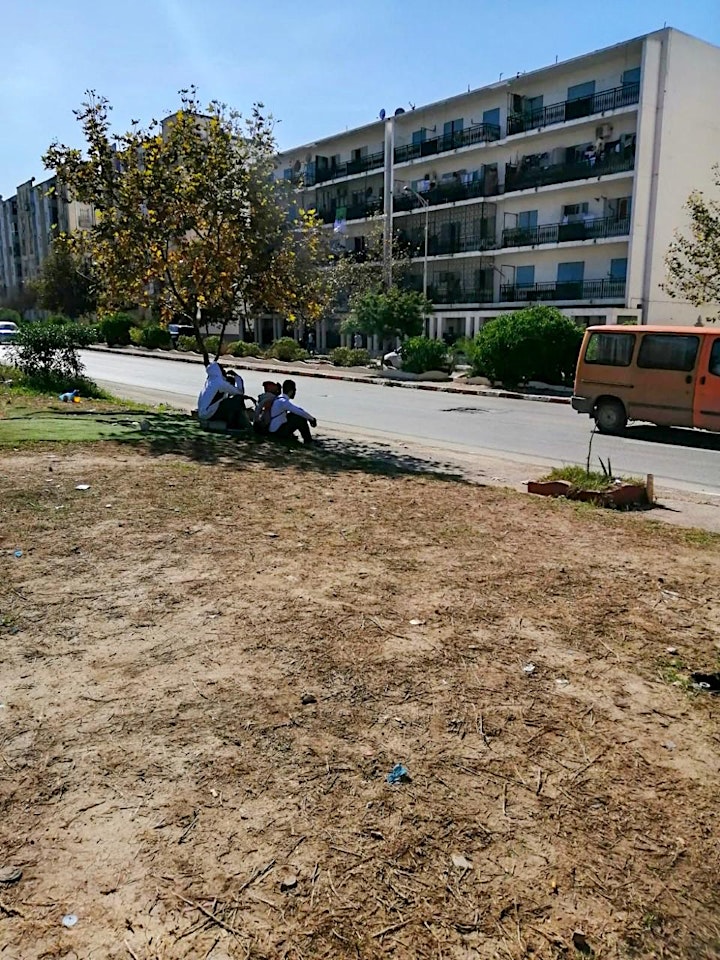 Sub-Saharan migrants stuck in transit, Oran, Algeria; Photo credit: Kheira Arrouche 2019
more
Time

3 (Wednesday) 3:00 pm - 9 (Tuesday) 4:30 pm