Green Tease: Creating climate democracy in Scotland
09dec4:00 pm6:30 pmGreen Tease: Creating climate democracy in ScotlandWe will explore the role of the arts and culture sector in helping to imagine and cultivate spaces for climate democracy in Scotland.Many Studios, 3 Ross St, Glasgow G1 5AR, United Kingdom4:00 pm - 6:30 pm OrganiserCreative Carbon ScotlandEvent TypeCultural, Arts & Social,Webinar & TalksThemeClimate Justice,Networking & Community Engagement
Event Details

At the root of the climate emergency is a crisis of political imagination. Our current democratic structures are limited in who they represent, and what they can achieve. We need radical, collective visions of alternative futures to drive transformative action.

This Green Tease event will explore the role public participation can play in the climate and ecological emergency; and the importance of art and culture in envisioning and creating the radical climate futures we need. A just and equitable response requires the creation and extension of dynamic, participatory systems with new citizen engagement opportunities.

Both human and non-human citizens of the world should have a say in their future. However, today the space for democratic participation is limited. Art and culture is essential in opening up spaces for democratic participation by connecting to imaginaries greater than the present, and greater than ourselves.

This event will bring together people in both the environmental and creative sectors to exchange knowledge, ideas and practices on how to drive effective, creative and collective public engagement with the climate and ecological emergency.

Malaika Cunningham from Artsadmin will present a live version of The People's Palace of Possibility a largescale interactive performance installation about utopias, rage, and how we create change, and together with experts in democratic innovation we will explore questions like: How does art and culture help us listen to local knowledge and empower communities towards collective action? How can we create and drive climate democracy in Scotland?

Photo credit event cover: Civic House Open Day, May 2022 – Tiu Makkonen | Roundtable event September 2022 – Rachel O'Regan.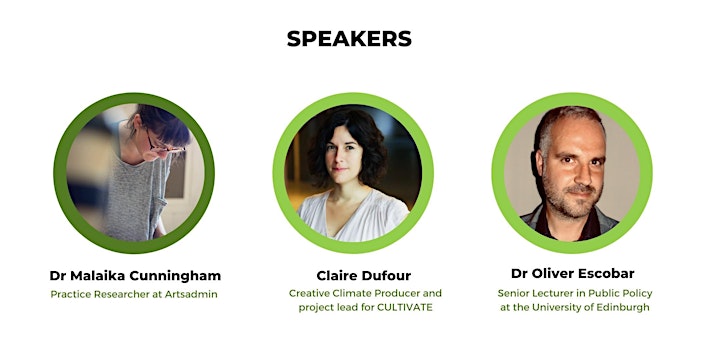 Speakers
Dr Oliver Escobar is senior lecturer in public policy at the school of social and political sciences of the University of Edinburgh; academic lead on democratic innovation at the Edinburgh Futures Institute; and co-director of CRITIQUE (Centre for Ethics and Critical Thought). He co-led the arts-mediated project Distant Voices, and co-directed What Works Scotland. His research and practice focus on different ways of empowering communities and has worked with the Just Transition Commission and Scotland's Climate Assembly. Before academia, Oliver worked in literature, radio, retail, fishing, and construction, and published three poetry books.
Dr Malaika Cunningham is based at Artsadmin as a practice researcher. This role is in partnership with The Centre for the Understanding of Sustainable Prosperity. Her research explores the intersections of participatory performance, environmental justice, and democracy. She is also artistic director of The Bare Project, a theatre and interactive arts company. They'll be presenting some work in the second half of the session.
Claire Dufour is a creative climate producer and project lead for CULTIVATE, a new regional programme focusing on improving social/climate justice for local communities through creativity and cross-disciplinary collaboration. Passionate about people, collaborative working and placemaking, her work focuses on providing safe, inclusive and brave spaces where we can learn from each other, and imagine and shape a better future together.
Technical Information
The event will be held in person. We want to remove barriers to participation in these events and are happy to make adjustments to prevent people being excluded. If you have any accessibility requirements, please state these when signing up or get in touch by email if you would like to provide more information or ask any questions. Please see our Safe working spaces statement for more information.'
If you have any questions about the content or want to know more, please get in touch with [email protected].
This event is part of Creative Carbon Scotland's Green Tease event series, part of the culture/SHIFT programme.
more
Time

(Friday) 4:00 pm - 6:30 pm
Organiser
Creative Carbon Scotland believes in the essential role of the arts, screen, cultural and creative industries in contributing to the transformational change to a more environmentally sustainable Scotland.