Green Tease: Decolonial perspectives on climate and culture
23nov6:00 pm7:30 pmVirtual EventGreen Tease: Decolonial perspectives on climate and cultureJoin this open discussion that brings together people working on decolonisation and climate in the arts. OrganiserCreative Carbon Scotland6:00 pm - 7:30 pm Event TypeWebinar & TalksThemeClimate Justice,Racial & Migrant Justice
Event Details

Illustration by Ngadi Smart

At this Green Tease event, we explore the growing movement within the arts to engage with and address the UK's colonial history, looking at how this is intimately connected with work on climate change as a neo-colonial issue.

Today the countries that were colonised are among the ones facing the largest consequences of climate change despite having the lowest carbon emissions. Nowhere is that clearer than in Pakistan, where people are being disproportionally harmed by climate change through heatwaves and flooding.

Through systemic extraction and large-scale change of the natural environment, British colonialism made countries like Pakistan more vulnerable to climate change. This extractivist mindset still endures and fuels the climate crisis and global inequality. This fact is recognised by the Intergovernmental Panel on Climate Change, the main scientific advisors on climate for the United Nations. Colonialism never went away – it just became invisible to some of us; through art, we can make these structural inequalities visible again.

Together we will develop an understanding of how decolonisation movements within the arts interact more broadly with work on climate change and we will create ideas and build connections between people working on decolonisation and climate in the arts.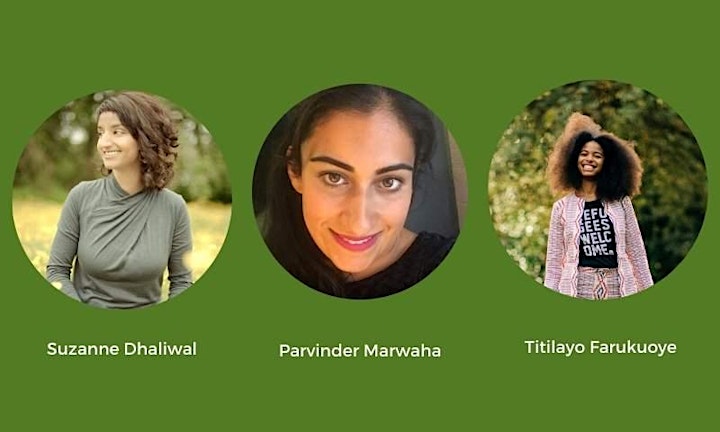 About the speakers
Suzanne Dhaliwal
Suzanne Dhaliwal is a climate justice creative, campaigner, researcher, lecturer in environmental justice and trainer in creative strategies for decolonisation. Voted one of London's most influential people in Environment 2018 by the Evening Standard. Suzanne has led campaigns and artistic interventions to challenge fossil fuel investments that violate the rights of Indigenous peoples.
Titilayo Farukuoye
Titilayo Farukuoye is an Austrian-Nigerian writer and organiser based in Glasgow. Titilayo co-directs SBWN and is an anti-racist educator, and curated Our (In)visible Strengths (2018). Their poetry featured at Fringe of Colour, 2020 Mixtape, Wrapped Up in This and Edinburgh Multicultural Festival. Media4Change and Future News Worldwide have recognised Titilayo's journalistic work. Titilayo is a recipient of the Edwin Morgan Poetry Award.
Parvinder Marwaha
Parvinder Marwaha is a design programme manager at the British Council. Parvinder builds local and international cultural practices that bridge ethics, design, food and curation in Europe and South Asia. Some of her projects include 'Gender Ecologies', a programme which looks at the intersections of gender, climate, sustainability and heritage in Bangladesh and Pakistan; seeding the 'Circular Cultures' programme across nine countries in Europe, which looks at circular and sustainable practices; and supporting emerging talent and thinking in programmes like 'DesignKind', which explores the intersections of race and climate justice.
The presentation will talk about the exhibition The Colour of the Climate Crisis: a collaboration with Do The Green Thing as an example of programming which explores the relationship between race, colonialism and climate injustice.
Technical Information
The event will be held via Zoom. Please register and you will receive an email on the day of the event with a link to join the online call via your internet browser or the Zoom app. To participate you need an internet connection and a device (a desktop, laptop, or tablet are preferable). If you have any problems, please get in touch with [email protected].
We want to remove barriers to participation in these events and are happy to make adjustments to prevent people being excluded. If you have any accessibility requirements, please state these when signing up or get in touch by email if you would like to provide more information or ask any questions. Please see our Safe Working Spaces Statement for more information.'
If you have any questions about the content or want to know more, please get in touch with [email protected].
This event is taken place as part of Creative Carbon Scotland's Green Tease event series, part of the culture/SHIFT programme.
more
Time

(Wednesday) 6:00 pm - 7:30 pm
Organiser
Creative Carbon Scotland believes in the essential role of the arts, screen, cultural and creative industries in contributing to the transformational change to a more environmentally sustainable Scotland.